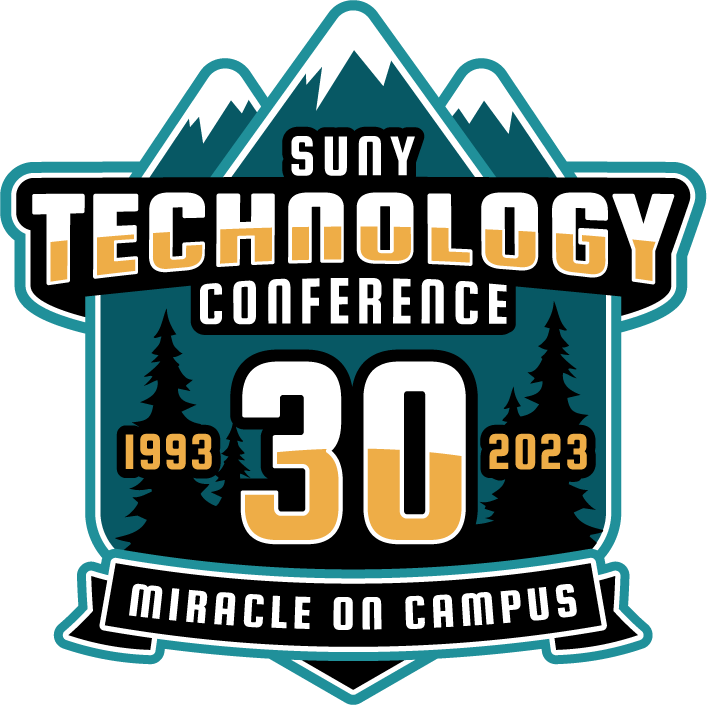 Save the date:
June 19 – 22, 2023
It's the 30th anniversary of the SUNY Technology Conference and we couldn't be more pleased to announce that STC will be back – in person – in Lake Placid for 2023! We have a great conference planned, including an event at the beautiful new Mt. Van Hoevenberg Olympic Complex.
This year's theme is Miracle on Campus: Building Winning IT Teams. Start thinking about how you've formed your teams, how you're planning for succession, and share techniques for managing winning teams. The call for presentations will be coming soon.
We need your help, there are many new people in our organizations who haven't attended STC in person. We want to tell them why STC is important and why they should consider attending and presenting. Please take a few minutes to let us know what you consider the highlights and benefits of STC.
2023 Theme
Miracle on Campus: Building Winning IT Teams
In 1993 members of the three technical communities of practice, COA, EdTOA and TOA, saw their roles beginning to overlap. While computing, educational technology, and telecommunications each play a vital role, STC's founders knew that it's when people in these communities work closely together that a campus runs most smoothly. The founders came together to host an all-encompassing conference to allow for networking and idea exchange across the three groups. In the intervening thirty years the lines between these communities have blurred even more and today, to keep SUNY competitive, we need to work together more than ever.
This year we'll explore how to build great teams. The best ones include rookies and veterans, so how do we recruit and retain fresh talent as a generation of senior staffers are retiring? Recruitment and retention are especially difficult in the current environment where we compete with higher paying remote and hybrid work options. We also need to engage new talent in our communities of practice, in SUNY wide collaborations, and groom them to be the next generation of chairs, directors and CIO's.
2023 Keynote
Mike Eruzione
1980 U.S. Olympic Hockey Team Captain; Portrayed in Disney's "Miracle"
Millions of Americans remember Mike Eruzione as the captain of the US Hockey Team that beat the odds to win the Gold Medal at the 1980 Olympics in Lake Placid, NY. It was his decisive winning goal that beat the Soviet team and stunned the world. That victory against the Soviets advanced the US Hockey Team to the gold medal game where they beat Finland…